I love to garden and want to teach my children the benefits and joy of growing things from a seed . When I came across I loved their concept of "Grow one, Give One".  I love that Back To The Roots will donate a product to the classroom of my choice. Classroom teachers need materials more than anything. I can't wait for my old co-worker to receive one of their products in the mail. I know she will run with the idea and create a whole tin can garden for her classroom!
Blake and Dylan's reaction when they cracked open this tin can and saw soil in it not food was priceless! After I explained what we were going to grow Blake responded with, "Dill, that's part of Dylan's name!". Such a proud Mom moment as we've been playing little word games together. If you have cowboy, and I take away the word cow what word is left? Sounds like he is generalizing this skill!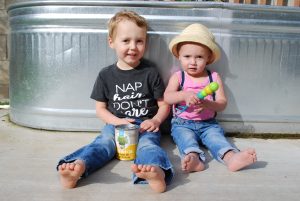 I love that my children can check on this can daily, learn to care for for it and use it in our cooking!  The is a great gift for any child you know. Trust me, kids don't need anymore plastic toys that make noise. Give them something they can care for observe.  "The glory of gardening: hands in the dirt, head in the sun, heart with nature. To nurture a garden is to feed not just on the body, but the soul." – Alfred Austin.